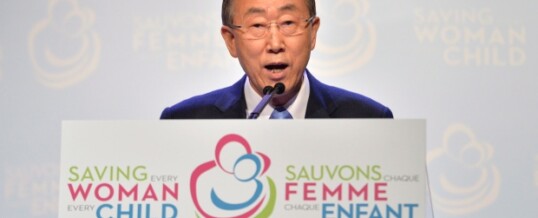 By Diana Rivington and Elizabeth McAllister
More maternal and child health funding is welcome, but the lack of focus on the human rights of women and girls is not.
In taking stock of last week's maternal, newborn and child health summit, Prime Minister Stephen Harper gets kudos for pledging more money to achieve UN Millennium Development Goal 4, to reduce child mortality, and Goal 5, to improve maternal health. But the second target of Goal 5, 'achieve universal access to reproductive health,' was very much neglected.
When speaking to the press, Mr. Harper gave muted recognition to the need to integrate family planning services and contraceptives into the MNCH initiative, and Melinda Gates spoke even more strongly. But both argued against support for abortion services as an integral part of a MNCH initiative. Mr. Harper even called the issue 'divisive'.
Two points should be made crystal clear: first, increased development funding for the health of mothers and children is important and welcome; but the lack of focus on the human rights of women and girls is not.
The prime minister, in reaction to a question on vaccination, said on the CBC, 'I frankly don't understand people who are walking away in our society from something that's proven to work… [who do] not listen to the scientific evidence.'
But we know, from evidence, that the greatest risk for maternal mortality (and lasting health damage such as fistula) occurs when girls have children too soon for their young bodies and when women have children too often for theirs.
We also know, from evidence, that more than 200 million women and girls want to delay or avoid pregnancy but don't have access to a modern, effective method of family planning. And we also know, from evidence, that where women and couples are able to use effective methods of family planning, the rate of abortion declines (although never to zero).
And we know, from evidence, that unsafe abortion accounts for 13 per cent of all maternal deaths, more than 47,000 deaths a year in developing countries.
The table below illustrates why Canada's medical-only approach to maternal health is inadequate. In the 10 countries of focus for Canada's MNCH programming, the rates of child marriage (before the age of 18) are very high. And a girl, taken out of school to marry an older man, is in no position to negotiate sex or delay pregnancy. Even if a girl or a woman knows enough to ask for family planning information, there is a large gap in access to services and availability of supplies. Thus, you can read the World Health Organization estimate of the unmet need for family planning by country of focus.
Girls and women are also at risk because they are treated as second-class citizens whose rights as individuals and as citizens are disregarded. And all of Canada's 'countries of focus' rank 111 or lower on the United Nations' Gender Inequality Index (Canada, by the way, ranks 18th).
We have learned over the years, from evidence, that death from unsafe abortion is rare in countries where abortion is permitted and quality, affordable services are available.
The table reveals that abortion is legal, with restrictions, in all but one of the MNCH countries of focus. This means that Mr. Harper is imposing his Conservative agenda for family planning and access to safe abortion. Divisive?
The MNCH initiative demonstrates how Mr. Harper and his government are getting development wrong despite the much-advertised good intentions. Development co-operation is not about charity or 'aid'. The women it targets are not victims. Women are producers, not just reproducers.
Canada needs to invest in the hard work of creating and implementing legal frameworks and gender-intelligent policies and programs that ensure respect for women's rights and the recognition of their crucial role in the development of their countries. Without the needed legal and policy framework, money thrown at the symptoms of poverty and exclusion can only achieve temporary success. And frankly, we are not convinced that the MNCH initiative is working with governments to create sustained systemic change in their health delivery systems and overarching institutions like the constitution, the courts, supreme auditors general who ensure legislation is being implemented. Is this mostly one-time life-saving? Are the workers being trained supported by adaptations to institutional support systems? This is the hard work of effective, sustainable development that we don't see in this initiative. 
If women and girls are not able to live free of violence and rape, inside or outside marriage, why should they be denied access to a clinic that can provide a next-day pill or a safe abortion, a right that all Canadian women have?
The prime minister's recent statements will only serve to legitimize 'bad behaviour' by other governments and service providers that do not provide a full range of reproductive health services to women and girls (and men and boys).
By paying attention to only part of the evidence, the MNCH initiative does not address why women and girls are at risk but just ensures that, once pregnant, there may be a health system to save them.
Is it divisive to care about the 47,000 women in developing countries who each year lose their lives to botched abortions?
CANADA'S FOCUS COUNTRIES
This chart shows how Canada's 10 focus countries for maternal, newborn and child health stack up against each other on child marriage, gender inequality and family planning.
| | | | | |
| --- | --- | --- | --- | --- |
| Country | % Girls married before 18[1] | Unmet need for family planning[2] | Rank, 2012 UN Gender Inequality Index[3] | Legality of abortion[4] |
| Afghanistan | 40.4 | n.a. | 147 | L[5] |
| Bangladesh | 66 | 13.5 | 111 | L |
| Ethiopia | 41 | 26.3 | Unranked | +[6] F[7] I[8] R[9] |
| Haiti | 30 | 37.3 | 127 | NE[10] |
| Malawi | 49.6 | 26.1 | 124 | L |
| Mali | 55 | 27.6 | 141 | L I R |
| Mozambique | 56 | 18.9 | 125 | To preserve health |
| Nigeria | 39 | 18.9 | Unranked | L |
| South Sudan | 52 | 28.9 (Sudan before) | Unranked | L |
| Tanzania | 36.9 | 25.3 | 119 | L |
This article first appeared in Embassy, June 4, 2014.
Diana Rivington is a senior fellow in the Faculty of Social Sciences at the University of Ottawa. Elizabeth J. McAllister worked for the World Bank and for the former Canadian International Development Agency in senior executive positions. She now consults with international organizations on strategy, results and evaluation. Both are Members of the McLeod Group.
Notes
[1] UNICEF Child Info
[2] Unmet need for family planning: From WHO http://www.who.int/reproductivehealth/topics/family_planning/unmet_need_fp/en/
[3] 2012 Gender Inequality Index: https://data.undp.org/dataset/Table-4-Gender-Inequality-Index/pq34-nwq7
[4] Center for Reproductive Rights: worldabortionlaws.com
[5] L= to save the life of the mother
[6] += additional grounds relating to factors like the woman's age or capacity to care for a child
[7] F= in case of fetal impairment
[8] I= in case of incest
[9] R= in case of rape
[10] NE= no specific exception in the law to save a woman's life
Share