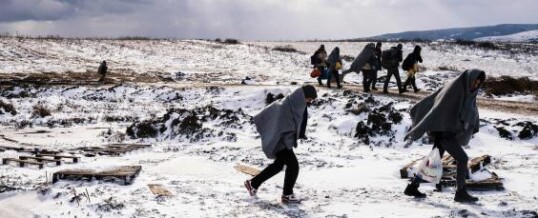 Guest Blog by James Milner and Kevin Dunbar, January 11, 2017
Events in Europe and elsewhere over the past year have again highlighted the many deficiencies of the "global refugee regime." Established in the aftermath of World War II, this regime has two core functions: to ensure protection for refugees and to find a solution to this plight.
By any objective measure, the global refugee regime is not working – and there have been growing demands from the public and politicians of all stripes to do something about it. These demands made for a busy 2016 in global refugee policy making – culminating in two summits in New York in mid-September: the United Nations Summit on Large Movements of Refugees and Migrants and a Leaders' Summit, co-hosted by the US, Canada and others.
A core message that emerged from these summits was the need for a closer relationship between humanitarian and development actors when responding to the needs of refugees. Given that 90% of the world's refugees remain in host states in the global South, UN Secretary-General Ban Ki-moon argued in his 2016 report, In Safety and Dignity that it is "imperative that humanitarian and development actors work together with [refugee-] receiving states and identify common outcomes that both can support, including the reduction of dependency on international humanitarian aid over time in favour of more sustainable solutions."
The importance of this "humanitarian-development nexus" has similarly been echoed in the UN's 2030 Sustainable Development Goals, the 2016 World Humanitarian Summit, and the 2016 New York Declaration for Refugees and Migrants.
The argument is that stronger links between humanitarian and development approaches can reduce the gap in humanitarian funding by reducing demand, reducing refugees' reliance on international assistance by promoting self-reliance, and mitigating the impact of the mass arrival and prolonged presence of refugees on host communities.
As we outline in our recent paper on this subject, the logic of the humanitarian-development nexus is not new. During the 1960s and 1970s, 90% of refugees in Africa were hosted in self-reliant, primarily rural, settlements and were provided with support to engage in small-scale agriculture that contributed to the local economy, approaches such as those now being pursued for Syrian refugees in Jordan.
We also raise the concern that recent discussions have focused on mitigating the consequences of prolonged exile, not finding solutions. While prolonged self-reliance may improve the lived experience of refugees, it is not a substitute for a solution. Instead, we argue that development approaches need to address both short-term and longer-term needs, while increasing social cohesion between host communities and refugee populations, and helping create pre-conditions for solutions.
Canada is well-placed to lead global discussions on how to link development and humanitarian approaches while upholding the refugee regime's commitment to protection and solutions. Canada is currently Chair of UNHCR's Executive Committee, which will play a key role in negotiating a new Global Compact on refugees, to be presented to the UN General Assembly in 2018. Canada is also recognized as a leader in developing 'whole-of-government' approaches to protracted refugee situations.
We were, therefore, encouraged to read the summary of submissions made during Canada's International Assistance Review (IAR), released on 6 December, especially the clear reference to the many benefits of linking humanitarian and development (and peacebuilding) activities when responding to humanitarian crises and the needs of displaced populations.
If adopted, this could promote Canadian leadership in comprehensive approaches to displacement, especially by directing support both to refugees and host communities.
The priority now is to build consensus with other states on the meaning and importance of the humanitarian-development nexus, develop the tools necessary to leverage the benefits of development programming for refugees and host communities, and identify situations where a rights-based, solutions-oriented approach to the humanitarian-development nexus can be implemented.
There are more displaced persons in the world today than at any time since the end of World War II. The average duration of a refugee situation is now 20 years. While the linking of development and humanitarian approaches is not a panacea for more predictability in responding to the needs of refugees, it is an encouraging start – and an area where Canada can shine.
James Milner is Associate Professor, Department of Political Science, Carleton University. Kevin Dunbar is CARE Canada's Emergency Director. The views expressed in this article are those of the authors.
Share