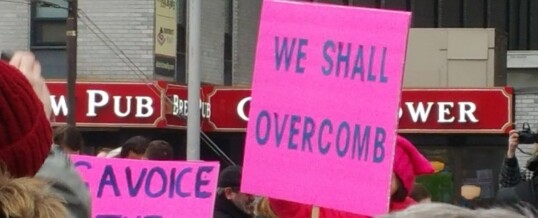 McLeod Group Blog, January 30, 2017
The organizers expected about 800 people to show up for the Ottawa Women's March on Saturday, January 21st. Instead, between 6,000 and 8,000 people converged on the Human Rights Monument –women, men, and children, many wearing versions of the now iconic pink pussy hat and carrying clever signs playing on Trump's vulgar comments about how to treat women. In cities and towns across Canada, people came for many different reasons, but there was a clear sense of pushing back against Trump's values in the United States and their seepage into Canada. The mood was friendly, upbeat and hopeful – a wonderful antidote to the sense of doom that has plagued many since the November 9th election. In the United States some 500,000 people showed up on the Washington Mall and across the U.S. at least 3.2 million people participated in marches, making this the largest protest in U.S. history. Globally, an estimated 5 million people took part in the marches. Women's voices are not always heard in official channels, but that Saturday women and their allies demonstrated that they will not be silent.
The following Monday, Trump fired back by signing a presidential memorandum that stunned people working on women's health and reproductive rights around the world. The memorandum reintroduces and extends the Mexico City Policy (also referred to as the Global Gag Rule), an intermittent United States government policy that in the past meant that foreign NGOs must disavow any involvement with abortion in order to receive U.S. family planning funding. Trump's version of the global gag rule expands the policy to all global health funding. The new rule means that rather than threatening $600 million in U.S. foreign aid, it will affect $9.5 billion in global health funding, which includes programming for maternal health, family planning, HIV/AIDS prevention and treatment, and more. According to Nicholas Kristof in the New York Times, one NGO providing family planning services, Marie Stopes, estimated that if it cannot find replacement funding, the new policy will result in 6.5 million unintentional pregnancies, 2.2 million abortions and 21,700 women dying in pregnancy or childbirth.
Some countries responded immediately. The Dutch Minister of Foreign Trade and Development Assistance announced that she intends to establish an international fund that will finance projects relating to access for birth control, abortion and woman's education throughout the developing world. She said that her government has been in touch with 15 to 20 other donor countries.
The Belgian Deputy Prime Minister and Minister of Development Assistance followed quickly with a statement of support for the Dutch proposal. It notes, "This American decision of the White House has a direct impact on the lives of millions of girls and women in developing countries. Information on family planning and the possibility of abortion are of great importance for the development of girls and women." He goes on to say that cutting funding to women's health organizations reduces access to contraception and increases the number of abortions and number of deaths from unsafe abortions.
Canada's International Development Minister Marie-Claude Bibeau said the Dutch initiative will be considered alongside the government's other options in this area. According to her statement, Canada's intention is to advance a strong women's empowerment agenda. This will include an increase in investments to support advocacy work for women's reproductive rights and for the provision of comprehensive sexual and reproductive health services, including safe abortion, where abortion is legal, and post-abortion care.
The 2030 Agenda for Sustainable Development, unanimously adopted by 193 countries at the UN General Assembly, specifically targets universal access to sexual and reproductive health as critical to the reduction of poverty and the fulfillment of human rights.
The Marches indicated that there is a global network committed to pushing forward on women's rights. Canada seems to be one of the few lights of liberal democracy in the western world and others may look to us to be a convincing global advocate for women's rights and the importance of truth and evidence in developing policy. Canada and its allies, both governments and civil society organizations, must do their part to safeguard and advance women's sexual and reproductive health and rights. They can do this by:
Increasing funding to support a comprehensive package of sexual and reproductive health services, including access to safe abortion;
Advocating at the UN and in international fora for greater attention to the links between poverty reduction and family planning and the impact of pregnancies on women's and children's lifelong health;
Educating Canadians on the importance of a comprehensive package of sexual and reproductive health services as a foundation for advancing women's rights.
It is true that one march or even a series of marches is not a strategy. But that is not the point. What the global Women's March demonstrated is that women and their allies across genders will not be gagged on these issues. Governments and civil society organizations around the world need to step up and channel the energy and power so evident in the marches into support for effective strategies for the promotion of women's rights and sexual and reproductive health worldwide.
Photo courtesy Alan Pickersgill
Share