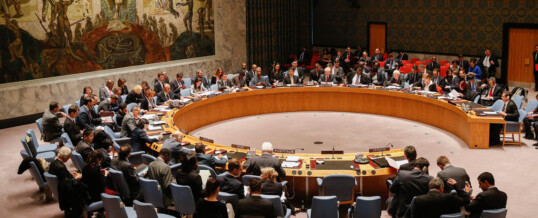 McLeod Group Blog, February 8, 2017
After the Harper government's disastrous attempt in 2010 to win one of the temporary seats on the United Nations Security Council, the Trudeau government has decided to try again. The next opening is in 2021. Fair questions to ask at this point are: Why are we doing this, and what difference might it make for Canada?
Fifteen months into the mandate of the Liberal government, foreign policy issues have attracted considerable attention on the part of Prime Minister Justin Trudeau and his cabinet colleagues. The conflict in the Middle East, particularly in Syria, has resulted in big commitments of funds for humanitarian assistance, to support the acceptance of over 30,000 refugees, and to pay for the deployment of Canadian military resources in the multinational effort to combat ISIS/Daesh. In the same neighbourhood there has been the awkward issue of light armoured vehicle sales to Saudi Arabia and that country's miserable human rights record. The free-trade agreement with the European Union, relations with China, international climate change agreements, hemispheric relations, and now the gorilla in the room, Donald Trump as the President of the United States, are other international issues Canada grapples with.
All of these challenges are taking place in the absence of a clearly spelled out foreign policy statement setting out Canada's diplomatic, development, defence, environment and trade, and investment priorities and objectives in a coherent framework. Do we have an agenda that Security Council membership would help us achieve? Who knows? An answer would help.
The Security Council has been receiving increasing criticism of late, especially given its apparent inability to achieve consensus on a ceasefire in Syria. Much of the criticism of UN inaction is unfair. It is very engaged through its humanitarian agencies—the United Nations' Office of the High Commissioner for Refugees, the World Food Programme and UNICEF. The larger issue for the UN, however, lies with the Security Council, in particular the unwillingness of the five permanent member states (United States, Russia, China, Britain, and France) to accept responsibility for a solution.
So why does Canada want to join this group, even for a brief, two-year term? What can we bring to the table? We could commit to assisting fragile and conflict-affected countries, as a contribution to global peace, security and stability. Canada could become part of a United Nations' African peacekeeping mission, increase its foreign aid spending and take leadership in the international climate change negotiations. But saying that doesn't make it happen, Canada has to show in word and deed what it espouses.
The campaign to get a seat on the Security Council will not be easy. Under its convoluted 'electoral rules', Canada is up against Ireland and Norway for two seats in the 'Western Europe and Others' constituency. What have we got that the other two contenders don't? Norway is a leading provider of foreign aid (over 1.0% of its gross national income, about four times Canada's paltry 0.26%) and has worked hard to support peace efforts around the world, notably in Sri Lanka and Palestine. Ireland is a member of the European Union and is likely to get the support of that bloc. Ireland is also a consistent and committed donor of aid to the poorest countries. Both countries are known as constructive international players, despite their small populations.
How will Canada make the case to the United Nations member countries that we are more worthy than Norway or Ireland for membership in the Security Council? Global Affairs Canada has assembled an eight-person team to monitor commitments from UN member countries to support our campaign and advise the government on strengthening its international engagement. But it will take a lot more than marketing to build and maintain a successful bid; there has to be some steak to go with the sizzle.
Canada has a lot of work to do between now and 2020, when the vote takes place. Before that, of course, there will be another federal election in this country, giving all of our parties and politicians a chance to expound on the subject.
Share