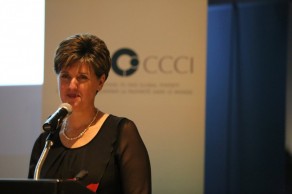 McLeod Group Blog, June 5, 2017
As Canadians wait for International Development Minister Marie-Claude Bibeau to release the government's overdue international assistance strategy, it is interesting to consider the minister's latest announcement on May 9 of funding for Canadian civil society organizations (CSOs). The occasion was the Global Impact Soirée organized by the Canadian Council for International Co-operation, the umbrella entity for Canadian CSOs engaged in development cooperation.
Minister Bibeau announced $100 million dedicated to small and medium-sized Canadian civil society organizations (those with annual overseas budgets under $2 million) to be spent over the next five years, i.e., $20 million per year. The money is intended to support innovative programs related to government priorities, notably the empowerment of women and girls and the promotion of gender equality. Most of the funding will be allocated through two programming "windows", one that will be responsive to CSOs' own priorities and one to help test innovative ideas. Six million dollars will be reserved for capacity- and knowledge-building among Canadian CSOs.
On the same occasion, Minister Bibeau referred to an imminent updating and implementation of the government's Civil Society Partnership Policy, but did not give any details on what this means. This policy was approved in early 2015 and has only gathered dust since then.
In her speech, the minister referred to the commitment of Canadian CSOs to poverty alleviation and to partnership and collaboration. But it is the long-promised frameworks of the new development policy and the civil society partnership policy that will determine whether the minister's announcement really offers them "predictability, transparency and access".
There was a time when the Government of Canada, through CIDA, trusted Canadian CSOs enough to offer access to decentralized funds. If a proposal fell within an agreed set of criteria, focused on results, and demonstrated that it was designed in partnership with a counterpart in the Global South, it was funded and the government exercised oversight by reviewing the reports and conducting evaluations.
Margaret Catley-Carlson, while she was President of CIDA, used to argue that foreign aid was risk money – otherwise the Royal Bank or TD Bank would fund everything. But what is the risk tolerance of Global Affairs Canada (GAC) in 2017? For example, will the "innovation window" accept that testing new approaches means riskier ventures with both a high potential for failure and a rich source of learning if partners document as they go. And if an innovative project proves successful, what is the vision for scaling up?
As mentioned above, $6 million will be set aside to build capacity and knowledge in the Canadian CSO community, which seems rather Canada-centric. Since the success of the programs depends on the Southern partners, let us hope that these resources can also be used to strengthen the partnership between Canadian CSOs and their collaborators in the Global South, to deepen the transfer of experience in both directions and to increase public engagement on development cooperation.
It is welcome to hear of funds being allocated to CSOs for development cooperation. However, coming from a frozen aid budget and in the absence of an international assistance policy framework, it is worth considering how much impact this initiative may have. Is this more smoke and mirrors to conceal the reality that Canada is doing a lot less with less when it comes to foreign aid? Or is there a potential to rebuild trust between GAC and CSOs and to support creative and innovative partnerships between Canada and organizations in the Global South?
Share