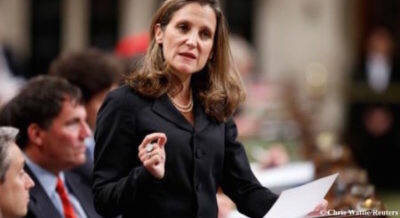 McLeod Group Blog, June 26, 2017
Minister of Foreign Affairs Chrystia Freeland's address on June 6 laid out what was meant to be a bold new vision for Canadian foreign policy in a hostile international environment. However, the speech repeated familiar arguments and promises regarding the Canadian government's commitment to signing more free trade agreements (FTAs) and to renegotiate the North American Free Trade Agreement (NAFTA).
In the face of Donald Trump's protectionist rhetoric, Freeland's speech attempted to position Canada as a champion of liberal internationalist values and a globalizing international economy. Freeland portrayed Canada as one of the main contributors to the building of liberal economic values and institutions after World War II. She proclaimed that Canada can "help the people of the world's fastest-growing countries join the global middle class and the multilateral system that supports it" and can counter the widespread disenchantment in the West with the idea that a globalized system can improve their lives. To promote this vision, she spoke of signing new FTAs along the lines of the (now presumably defunct) Trans-Pacific Partnership and, her favourite example, the Canada-EU Comprehensive Economic Trade Agreement (CETA), branded on the Global Affairs website as "a progressive trade agreement for a strong middle class".
Freeland recognized that not everyone, in Canada or developing countries, sees the merits of these agreements. She identified widespread concern that "too many people have been left behind". But she tried to debunk the idea that trade agreements are to blame. For her, the real culprit is domestic policy failing to employ measures that would help spread the benefits of trade and promote sustainable development. Presumably other countries just need to elect governments, like our Liberals, committed to supporting their middle classes.
It is true that free trade is not the sole culprit for the growing inequality and entrenched poverty that prevail in many countries, and that FTAs like NAFTA are an easy target for populist leaders like Trump. There are other causes, such as technological advances that inevitably displace many workers, and, yes, poor domestic policy. Nevertheless, there is ample evidence that the type of free trade agreement that Canada has signed, based on the NAFTA model that was largely designed on the wishes of the US Trade Representative's office and the lobbying of multinational corporations, has serious flaws, particularly for developing countries. We need look no further than Mexico, where both domestic and foreign leaders told the population that entry into the largest free trade area in the world would almost automatically lift Mexicans out of their poverty. Sadly, poverty levels remain stuck at almost the same levels as they were when NAFTA was signed in 1994, because the rich have reaped most of the benefits where growth was induced, and economic sectors that provided significant employment and livelihoods to the poor – such as agriculture – were gutted by the terms of the trade agreement, which flooded Mexico's markets with subsidized US grains. This entrenched poverty is one cause of the high levels of emigration and rising violence in Mexico that frighten Trump and his supporters.
While these problems certainly have some domestic roots, few developing countries have fared better as a result of the adoption of the liberalized trading rules that Freeland extolled. Many aspects of these FTAs, particularly the investor-state dispute mechanism, limit the willingness and capacity of signatory states to adopt development- and environmentally friendly policies, since they allow foreign corporations to sue countries for policies that might infringe upon their profits.
Freeland did recognize that the standard FTA model needs to be "modernized," and has championed something called the Progressive Trade Agenda. In a speech in Chile in March 2017, Minister of International Trade François-Philippe Champagne, stated: "Progressive trade means helping ensure that all segments of society can take advantage of the opportunities that flow from trade and investment – with a particular focus on women, Indigenous peoples, youth, and small and medium-sized businesses." How this is to be achieved in practice – for example in agriculture, which employs many of these marginalized actors – is left quite unclear.
Global Affairs Canada is also struggling with how to achieve a feminist trade policy. The Liberal government has emphasized efforts to support women-led businesses to participate in international trade, but this is hardly a new policy, and approaches to date have not shown much success in actually helping address gender inequalities. Canada's recent addition of a chapter on trade and gender in the 20-year-old Canada-Chile Free Trade Agreement is notable, but starts with small measures such as the creation of a trade and gender committee to "share experiences" on how to encourage women's economic participation and entrepreneurship.
These nobly intentioned measures all stay at the margin of the structural issues that prevent trade benefits from being shared equally. Swedish policies, which have set the standard for feminist foreign policy, go far beyond Canada's limited approach. They go more to the heart of how to change the terms of women's participation in the economy, including commitments to:
Ensure that women's land ownership rights are strengthened;
Adopt gender-responsive budgeting;
Support women's access to productive and inclusive work;
Promote a gender-equitable division of unpaid housework and care work;
Seek agreements that strengthen women's rights as workers; and
Strengthen women's business networks.
If Canada wants to adopt a progressive trade agenda, indeed one informed by feminist principles – assuming the latter are allowed to extend beyond application to aid – we would benefit from a careful examination of Swedish policies. But this will require a much deeper commitment to change, and moving beyond glib nostrums about the benefits of international trade.
Share