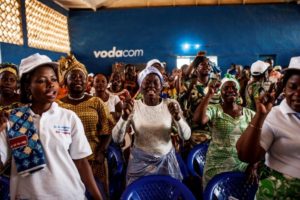 McLeod Group guest blog by Rachel Vincent, November 27, 2017
When Foreign Affairs Minister Chrystia Freeland announced Canada's second-ever national action plan on women, peace and security at the start of November, four other federal ministers as well as a huge crowd of civil society representatives and diplomats were also on deck for an impressive show of support. To what extent does it advance a feminist foreign policy? Though the new plan is a clear step forward, it also carries important limitations.
In 2000, after many years of lobbying by the global women's movement, the UN Security Council passed Resolution 1325 that, for the first time, recognized the role of women in preventing and resolving conflicts. 1325 quickly became the foundation of a highly touted global agenda to advance "women's equal and meaningful participation in peace and security efforts". Denmark, Sweden, Norway and the UK led the way, announcing their national action plans on women, peace and security in 2005 and 2006; under Prime Minister Harper, Canada finally launched its first plan in 2010.
Canada's announcement of its second national action plan earlier this month was part of the "Canada is back" effort on the global stage, and another step in this government's quest to advance its "feminist foreign policy".
And, indeed, Canada's new national action plan is a big improvement over the old one. It doubles the number of government departments charged with implementing the plan, going beyond Global Affairs Canada and the military to also include Public Safety; Status of Women Canada; Immigration, Refugees and Citizenship Canada; and the Department of Justice. This increased engagement at the domestic level bodes well, enabling, for example, a more effective response to the needs of women refugees coming to Canada from conflict countries.
The strong participation of civil society – primarily through the Women, Peace and Security Network–Canada, which was consulted during the development of the plan – will be carried into the implementation phase of the plan. Civil society will co-chair an "action plan advisory group" with the Peace and Stabilization Operations Program at Global Affairs Canada, responsible for the overall coordination of the plan across the government. Hopefully this guarantees that the feminist organizations that pushed for the new national action plan will have a strong voice.
More fundamentally, the plan says all the right things by recognizing the unique role of women as peacemakers in all aspects of peace – from organizing mass action campaigns in favour of peace to peace negotiations and increasing community buy-in for peace accords. Drawing very effectively from the research and expertise of the global women's movement over the past three decades, Canada's plan makes the strong case for why changing "unequal power relations" is so critical to building peace.
The challenge ahead, besides ensuring a robust budget to implement the plan, is really about facing the gaps in the global women, peace and security agenda – and the Trudeau government's willingness to apply a feminist approach across all areas of foreign policy.
Two weeks after the government made the women, peace and security announcement, Canada hosted the UN Peacekeeping Defense Ministerial conference in Vancouver. Prime Minister Trudeau made his long-awaited peacekeeping announcement, backing away from commitments involving more Canadian boots on the ground in favour of a behind-the-scenes approach that put a feminist face on the military: $21 million in new funding for "training and leadership" to bolster the number of women peacekeepers.
Herein lies the paradox of the women, peace and security agenda, not just in Canada but also in most of the 70 other countries that have national action plans. Increasing the number of women in the military, including in peacekeeping missions, has become a key and highly visible strategy for making the world safer for women. So is ending rape and other forms of sexual violence in conflict – an effort that Cora Weiss, an American peace activist and co-drafter of UNSC 1325, warns is only making "war safe for women". A focus on adding women comes at the expense of other, more transformational changes. Demilitarization and conflict prevention work is relegated to the back burner; few countries invest significantly in the long-term peacebuilding work that includes radically upending gender norms, peace education and supporting grassroots women's organizations to advocate for disarmament.
If measured in dollar investments, security for this government is still very much about military solutions. Meanwhile, foreign aid funding – the well from which the government of Canada is drawing much of the money to implement the women, peace and security agenda – has dropped, and within that shrunken budget, peacebuilding work is not able to compete with urgently needed humanitarian assistance and other priorities.
But advancing greater peace and security is not just about increasing foreign aid; it is also about greater foreign policy coherence. Canada's dramatic jump in arms exports last year to Saudi Arabia – which, in turn, is waging war on civilian women, men and children in Yemen – renders any investment in peace in the region almost meaningless. And as long as Canada hangs back from tackling the thorny issue of how Canadian companies or Canadian financing is helping to fuel insecurity for communities in places such as the Democratic Republic of Congo or Guatemala, we are not making the world safer for women and their families.
A true feminist foreign policy will require making some tough choices that demonstrate true leadership and a genuine commitment to peace and security.
Rachel Vincent is the Director of Advocacy and Media for the Nobel Women's Initiative, based in Ottawa.
Photo: Women activists in the eastern Democratic Republic of Congo meeting with a Nobel Women's Initiative delegation in 2013. Credit: Pete Muller/Nobel Women's Initiative.
Share